I'll be adding more pictures of my designs as time permits. Please keep checking back.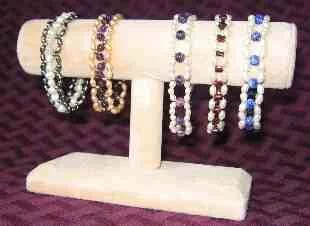 Part of my pearl bracelet collection. From left:
Freshwater pearls in peacock and white, or peach with amethysts, woven on a single stretch cord.
Woven pearls, with magnetic clasp in 14kt gf or sterling silver. White pearls with amethyst, garnet, or lapis. Other stones and colors of pearls available.
$45 ea plus s&h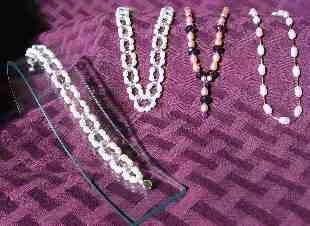 Woven bracelet, of pearls and Czech crystals, with SS magnetic clasp. $45
Matching V-necklace, SS clasp. $125
Peach pearls with amethyst rondeles and rounds, with drop. $65
White pearls with GF tubes, GF magnetic clasp. $45

A Shirl's Pearls signature design — Peacock Pearls Bracelet, 7 1/2".
Fresh water pearls woven on silk, with 14kt gold-filled clasp.
$59 plus s&h.